Ancient Secrets 'n' Things

Well, looks like we need a time machine!

Involvement

Selling time machines and giving an epic quest.
The
Ancient Secrets 'N' Things
is a big shop which
The Raccoon
owns & possibly where he lives in another room. He keeps & sells ancient & mystical Japanese items, along with high technology products too, like a Time Machine that he has in the back.
Some things that The Raccoon owns are from other countries such as China. The shop sells many things out of the ordinary & may have everything everyone is looking for.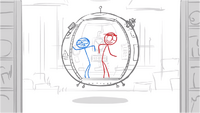 The shop only appears in 1 episode, which is Steakosaurus, when Red wants to eat a dinosaur & buys a Time Machine to get some dinosaurs. It later reappears in Dick Figures: The Movie.
Movie appearance
In the movie, the poster changed to Ancient Secrets 'N' Things: "We're open all night baby, we're nocturnal", and appears when both Red & Blue decide to go to there to buy the greatest present of all time for Pink. It shows in more details the inside of the shop, showing that The Raccoon sells:
Electronic devices, like phones, radios & lamps (including lava lamps & a djinn lamp).
Helmets (Skull helmet, Football helmet, ...)
Briefcases
Shirts (with "Remochoso" on it)
Sport items (Tennis racquet, bowling ball, ice skates, ...)
Books
Guns 
Swords
Bows
Spears
Vases (or maybe those are only for decoration)