Bigfoot made a small cameo appearance in the episode,
Camp Anarchy
. He threatened to eat Blue's campers after the lights went out, but Red's troop of campers attacked him, tied him to a tree, and beat him with sticks. Blue, remembering his dark childhood memories, claimed that he was "So sorry", to him, and began beating him bloody with a baseball bat. It is implied that they did this until he killed him. Behind him, Red simply utters "Aah, camp is great." To some fans suprise, days after this episode was released, "A Finding Bigfoot" show on Animal Planet was somewhat similar .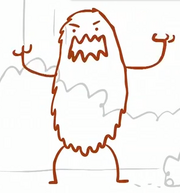 Ad blocker interference detected!
Wikia is a free-to-use site that makes money from advertising. We have a modified experience for viewers using ad blockers

Wikia is not accessible if you've made further modifications. Remove the custom ad blocker rule(s) and the page will load as expected.