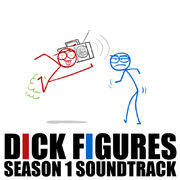 The Dick Figures Soundtrack Season 1 is the soundtrack for Dick Figures Season 1 availble on iTunes. The album costs 4.99 USD plus the Digital Booklet and 0.99 USD per individual track. It features 35 tracks, plus one bonus track: A song by Red called "Yo Butt" Featuring Raccoon. It was composed by Nick Keller and Ed Skudder.
The soundtrack is available on iTunes here: http://bit.ly/iigFgg
Track list
1. Dick Figures Theme
2. Dick Figures Theme 8-Bit
3. In Tha Citaaay
4. Flame War
5. Un Cafe Francais
6. That's a F*cking Dragon!
7. Dragon Slaying Dubstep
8. Ancient Secrets N' Things
9. Medieval Times
10. Pharaoh of Phuck
11. Cretaceous Park
12. Cave Dicks
13. Hungover Banjo
14. Parallel Mirror
15. Sorry Dude I Gotta Sh*t!
16. Space Jams
17. Three Little Words
18. La Vie En Red
19. Sexy Front
20. Calipornication
21. Dumpster Cat
22. Dos Chicas Jalapeños
23. Killer Kitty Amazing
24. Stoned to Death
25. Go Wide!
26. King Richard Figures the Longshaft
27. Pwning a Troll
28. Shutthef*ckupicus!
29. Lord Tourettes
30. Doth She Have Big Boobs?
31. Rescuing The Pinkcess
32. The Legend of D&D
33. Epic Space Titles (Crimson Empire)
34. Epic Space Battle (Cerulean Alliance)
35. Epic Space Duel (Red vs. Blue)
36. Yo Butt (Bonus Track)
Costs (iTunes):
AUD: 8.99 (1.69 per individual track)
NZD: 9.99 (1.79 per individual track)
GBP: 2.99 (0.79 per individual track)
Trivia
This album is currantly the fourth best selling Dick Figures soundtrack on iTunes.