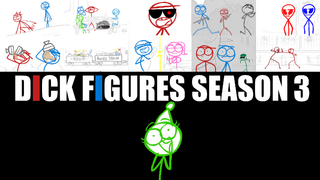 Dick Figures Season 3 is the 3rd season of Dick Figures. The season introduced a new animation style where the characters are more bolded. It first started September 22, 2011 and finished in January 26, 2012. The season had longer episodes that went for about 3-4 minutes long than the usual 1-3 minute long episodes. The season became available as a purchase item on Yekra and Google Play on March 28, 2014, which contains all 10 episodes and a new animated intro.
Season Summary
In Season 3, Red and Blue fight an evil villain with their superhero secret indentities, Red breaks into the main database for the internet in order to find the perect boobs, aliens versions of Red and Blue threaten to destroy their planet and steal all the world's burritos, Red and Blue switch brains and ruin each other's lives, and Red has to help Blue save Pink from an evil Chinese restaurant.
Episodes
All Episodes
Ad blocker interference detected!
Wikia is a free-to-use site that makes money from advertising. We have a modified experience for viewers using ad blockers

Wikia is not accessible if you've made further modifications. Remove the custom ad blocker rule(s) and the page will load as expected.