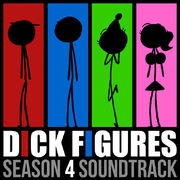 Dick Figures Season 4 Soundtrack is the soundtrack for
Dick Figures Season 4
, it is available on iTunes and Nick Keller's Official Website. The album costs 4.99 USD on iTunes and Nick Keller's Website as well as each track costing 0.99 USD individually. It features background music from the fourth season composed by Nick Keller, as well as the songs
Ballad of Lord Tourettes
, it's instrumental version (No vocals), Bjorn in The USA, Take my Hand and it's instrumental version starring Ben Tuller (Voice of
Lord Tourettes
), Nick Ainsworth, Shea Logsdon (Voice of
Pink
) and Zack Keller (Voice of
Blue
) respectively. 
Track list
1. Dick Figures Anthem Redux
2. I Play Every Day!
3. All On Red
4. Sal Sagav
5. Le Derp Francais
6. Taco Tuesday
7. Ocho Murete
8. Enter the Raccoon
9. First Day of Cool
10. The First Fight
11. El Diablo Rojo
12. College House
13. Paint the Town Red
14. Ballad of Lord Tourettes (Feat. Ben Tuller)
15. Ballad of Lord Tourettes (Instrumental)
16. Earl Gray Returns 
17. Fight Butlers with Butlers
18. Bjorn in the USA
19. Take My Hand (Feat. Shea Logsdon and Zack Keller)
20. Take My Hand (Intrumental)

Trivia
This is currently the best-selling Dick Figures soundtrack on iTunes.
Ad blocker interference detected!
Wikia is a free-to-use site that makes money from advertising. We have a modified experience for viewers using ad blockers

Wikia is not accessible if you've made further modifications. Remove the custom ad blocker rule(s) and the page will load as expected.