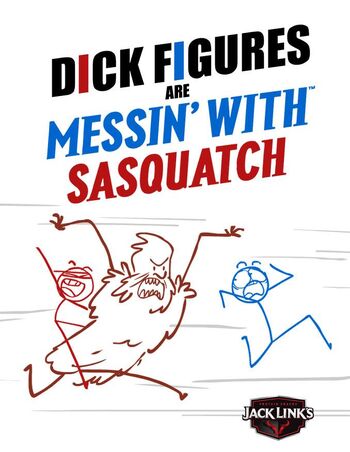 Messin' With Sasquatch is series of Dick Figures episodes all sponsoring Jack Links' Beef Jerky.
History
After Dick Figures Season 5 finished up, many speculated that more new episodes of Dick Figures would soon be in the works, since Figured Out never had a YouTube premiere. However, Zack Keller confirmed on his Tumblr that Season 5 was the last season of Dick Figures.
In 2015, more speculations flooded Ed Skudder and Zack Keller's twitter accounts asking if more episodes were being made. Finally, on July 3rd 2015, Zack Keller officially confirmed that new episodes would be released under the name 'Messin' With Sasquatch'. Many speculate Messin' With Sasquatch would begin sometime after Chick Figures finishes up. Later, the first episode aired in October 2015.
Episodes
Reception
Unlike the original series, the Messin' With Sasquatch episodes received largely negative impressions and reviews from viewers. Many criticized it for it's choppy frame rate, lack of humour, and that the series has now turned into a commercial.
References
Ad blocker interference detected!
Wikia is a free-to-use site that makes money from advertising. We have a modified experience for viewers using ad blockers

Wikia is not accessible if you've made further modifications. Remove the custom ad blocker rule(s) and the page will load as expected.