London was the setting for the episode The Fart Knight Rises, when Earl Grey tries to steal all the gold medals from the Olympics, but Batman (Red) and The Bloser (Blue) arrives and stop his evil plan.
It is located in England, a country in Great Britain and where the Olympic stadium is. The city's language is English, but every citizens that lives there have a British accent, except for Batman (Red) and his side-kicks (Bloser and Alfredberry) who actually are Americans. Many stereotypes of British people are seen in the episode when it appeared and even a shop can be seen (when Alfredberry shoots his bazooka) saying BRITISH STUFF!!!.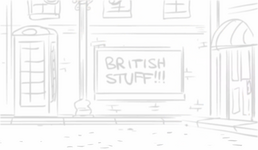 Ad blocker interference detected!
Wikia is a free-to-use site that makes money from advertising. We have a modified experience for viewers using ad blockers

Wikia is not accessible if you've made further modifications. Remove the custom ad blocker rule(s) and the page will load as expected.