Raccoon's House



Involvement

Where Raccoon Lives
It is really unclear where
Raccoon
lives, but the episode of
Ocho Muerte
, Raccoon's house seems to be right across the street of
Red
and
Blue
's apartment. Also, In
Robot Frog
, he lived near Red and Blue's apartment before he was kicked out.
Trivia
There are only a little amount of shots of Raccoon's house.
Raccoon prefers to have his home in the old culture of Japan and of a Samurai.
Raccoon does not seem to mind when people barge into his home.
He prefers to live alone.
Raccoon's refridgerator door has Pikachu from Pokémon, Godzilla, Nyan Cat's head, Water Drop, Anger Symbol, and letters that say, "H O N T O".
The Raccoon is only one building away from red and blue's apartment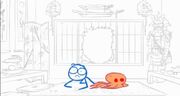 Ad blocker interference detected!
Wikia is a free-to-use site that makes money from advertising. We have a modified experience for viewers using ad blockers

Wikia is not accessible if you've made further modifications. Remove the custom ad blocker rule(s) and the page will load as expected.