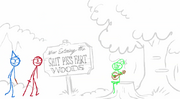 The Shit Piss Fart Woods is 1 of the locations seen in some episodes of
Dick Figures
. It so far has appeared in 2 episodes & a teaser. It's 1st appearance was in
Role Playas
, 2nd was in the
T-Shirt Teaser
& 3rd was in
Ballad of Lord Tourettes
.
Appearances
Trivia
The Shit Piss Fart Woods also marks the 1st appearance of Lord Tourettes.
This place is possibly Lord Tourettes' favorite place & home, for in the Shit Piss Fart Woods' 3 appearances, Lord Tourettes shows up in all of them.

As seen in Role Playas, the woods seem to also have 2 small houses (when Maroon & Cerulean pass them by after Maroon kills Lord Tourettes) & a tower that looks like a man's penis and also where Pinkcess was locked away in.
It's possible Lord Tourettes might've been the 1 who named the place while in his spazzed out state seeing as how it's quite unusual name for someone to name a woods "Shit Piss Fart".
It's possibly a fictional location since it has only officially been seen in Role Playas when Red & Blue were playing Dungeons & Dragons.