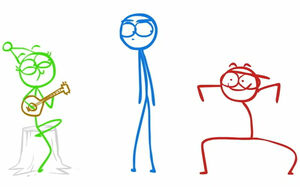 Sweary Christmas from Lord Tourettes
is a short Christmas card video made by the crew behind Dick Figures. Ed Skudder performs Lord Tourettes' voice this time. It's the 1st episode animated by another studio other than 6 Point Harness Studios.
Plot
Christmas time's here & to celebrate, Lord Tourettes offers up a big elf you!
Transcript
Lord Tourettes: (singing) We wish you a merry COCKFART! We wish you a merry SHITBARF! We wish you a merry SKULL FUCKING ASS NINJAS! And a happy new yeeeeeeaaaaAAARRR!!! SHIT! (laughs)
(Red & Blue are standing near Lord Tourettes) Red: I'm gonna go drop a yule-log! (Poops on the floor.)
Blue: Wait! Don't shit in the firepla--
(A farting sound is heard & a giant explosion hits Blue & Lord Tourettes.
Blue forcibly flies out of the picture & Lord Tourettes face melts off, showing nothing but his skull.) -MERRY SHITMAS!-
Red: (off screen) Merry Christmas, everybody!
Video