T-Shirts Must Be Destroyed
is a short episode of Dick Figures that is used to advertise the Dick Figures T-Shirts. In this episode, the Dick Figures T-Shirts destroy characters of the show because they are cursed and evil.
Plot
The Dick Figures T-Shirts starts destroying all the characters of the show.
Transcript
(Lord Tourettes skips towards a Dick Figures T-shirt hanging from a tree.)
Lord Tourettes: Oh my! (laughs) Look at this beautiful T-SHIT!
(Time lapse. He's shown on the ground wearing the shirt.)
Lord Tourettes: (screams) Get... FUCK! it... FUCK! OFF! FU--
(Mr. Dingleberry is shown in his room with the T-shirt hanging next to him.)
Mr. Dingleberry: Ehh. Where did I put my shirt? (Looks around & spots the T-shirt.)
(Time lapse. Mr. Dingleberry is on the floor with the T-shirt on. A mutant worm comes out of his chest.)
Mr. Dingleberry: (sees the worm) Ah, there it is.
(Raccoon is shown wearing the T-shirt in front of a mirror.)
Raccoon: Me rike. Me rike a rot.(Raccoon's accent causes him to pronounce his L's into R's'.)
(Suddenly, he bursts into flames.)
Raccoon: Wa, ah! FIYARUU! (Fire in Japanesse accent.)
(Stacy is shown at a clothes shop with the T-shirt. Her hair is back in pigtails.)
Stacy: (ditsy voice) Oh, my God! These shoes are so cute.
(There is a front outside view of Maulmart. Suddenly, it explodes.)
(Red is running towards Blue while screaming. He is also wearing the T-shirt.)
Red: I can't get it off me & I don't even know what it is!
(Red falls to the ground while trying to get the T-shirt off.)
Blue: No. No! What've we done?!
Red: This T-shirt was made by SATAN! (Continues screaming.)
Blue: (to the viewers) You have to buy all the shirts so no one else gets hurt! (Runs toward the camera.) Tell everyone: Buy all the shirts! Buy them all & destroy them! Nooooowwwww....
(The screen becomes static, then the T-shirt is shown in an exploding background. The text says "DICK FIGURES T-SHIRTS. NOW AVAILABLE. ONLY AT SPENCER'S.")
Characters
Trivia
Lord Tourettes appears to be in the Shit Piss Fart Woods.
For some reason, Stacy has her old appearance (purple with pigtails) back. This could mean her new appearance (magenta with a new haircut) from Modern Flame War 3 was just temporary.
Stacy calls the T-shirt shoes.
When the worm-like creature bursts through Mr. Dingleberry's chest, it's a reference to the movie, Alien.
The title of the episode is a reference to Lord of The Rings.
Video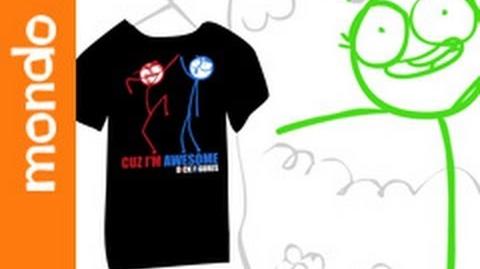 Ad blocker interference detected!
Wikia is a free-to-use site that makes money from advertising. We have a modified experience for viewers using ad blockers

Wikia is not accessible if you've made further modifications. Remove the custom ad blocker rule(s) and the page will load as expected.