The Bank

Protect and serve mothafucker

Involvement

Bank Robbery
Towards the end of We're Cops! , Red and Blue claim they are stopping a bank robbery so they can keep playing out that they are still cops, but then rob the bank themselvs and claim they are just protecting the money.
Trivia
Cops in this town don't seem to show their I.D. since Red and Blue never had to display theirs proving they were cops.
In the kickstarter comic Red withdrawls all the money from the bank, using the funds for Dick Figures: The Movie , to spend it all on making a huge donut at a bakery.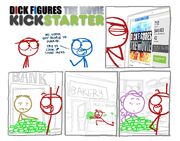 Ad blocker interference detected!
Wikia is a free-to-use site that makes money from advertising. We have a modified experience for viewers using ad blockers

Wikia is not accessible if you've made further modifications. Remove the custom ad blocker rule(s) and the page will load as expected.